What is Native Advertising?
The increase in new technologies has resulted in an entirely new advertising landscape. In this new reality, native advertising stands out as a great concept to keep in mind. This is a handy way to ensure greater visibility and, as a result, attract more traffic to your website.
What is Native Advertising?
Don't forget that online advertising, like other means, has one clear goal: which is, of course, to generate sales – even if, on the way, you achieve other important results such as leads or improving your brand image. However, to achieve your set goals, you'll need to be very careful about the advertising campaigns you launch.
As such, we define native advertising as a means of advertising through paid methods, adapting the form and functionality according to the environment in which the advert will appear. In other words, it's about being less intrusive than traditional advertising –aiming to gain a foothold in the viewer's mind. This is also known as positioning. To carry out this type of advertising, put yourself in the viewer's place. You should not be able to tell that these are paid advertisements, as they should be perfectly integrated within the environment.
However, there should always be some signal – for ethical reasons – that these are promoted products.
As with other formats, native advertising depends on the quality of the content. Without becoming too obviously promotional, it must offer value to the user, while entertaining them. As such, it's a good idea to speak about problems and concerns in order to then promote your product or service as the possible solution.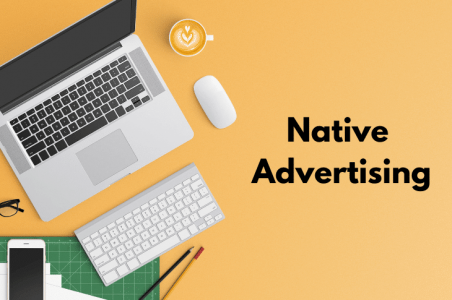 Benefits
The direct aim of advertising is to make sales. However, today, the concept of branding has changed significantly – thanks to the rise of new technologies. That's why we've put together a list of some of its benefits.
Greater visibility. Internet users are increasingly capable of avoiding advertising methods when reading content online. However, by using integrated adverts, visibility increases by up to 53% in comparison with traditional banners.
More traffic in general. S If you have greater visibility, it's logical that you'll obtain higher volumes of traffic on your site. What's more, this form of advertising is capable of reaching even those users that don't respond to traditional advertising. This means more traffic, which usually comes with a
lower CPC.
Better browsing experience. This way, you'll avoid interrupting internet users' reading. As such, user experience will be improved and your reputation will tend to become more positive. What's more, 32% of users will share these adverts on social networks if it offers them added value. This is very important, as it will help your content go viral.
Discover your target market's interests. Analysing reactions allows you to obtain more information, in order to then make changes according to your target market's tastes. This way, you can adapt your communications strategy more easily and effectively.
Formats
This advertising model comes in various formats. In this post, we'll highlight three of the most significant formats today according to the different interests of companies today.
Branded Content. This is content created and published by third parties and, at the same time, sponsored by the brand.
Native Display Ads. This is promotional advertising that has been completely adapted to its environment.
Content Ads. Here, we're talking about content sponsored by the brand which users experience as immersive reading within editorial media and blogs.
Tips
Native advertising is on the rise. These tips can be useful in avoiding high-bounce rates on your website when users see advertising messages. Bear in mind these basic premises:
Define your objectives. Before launching any advertising campaign, you need to clearly understand what you're looking to achieve. This is a good technique for attracting internet users, but you'll also need to look for good ways to keep them on your site afterwards.
Ensure the quality of your content. You'll need to carry out ongoing studies to determine which contents are most appreciated by your target market. The more value they offer, the easier it will be to attract and retain users.
Look for integration. Ads should be integrated within their environment, but should also be aligned with the editorial line and your target audience.
Don't overuse promotions. Content ads can be helpful. However, it's important to avoid excessive use because, ultimately, your goal is to achieve organic content – rather than paid advertising.
In summary, native advertising is a good way to advertise online – as long as you have a clear idea of your target market and the types of campaigns you want to launch. All this will depend on the evolution of traffic on your website. For more information, get in touch with Affilired.