Affilired Launches Ensana Hotels Campaign on Impact Platform
Affilired, known for their expertise in performance marketing and their commitment to driving meaningful results to the travel sector, has added yet another feather to their cap with the inclusion of  Ensana Hotels on the prestigious Impact platform.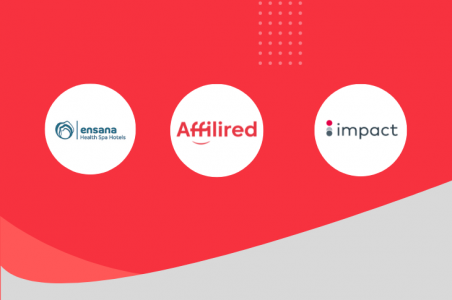 About Ensana Hotels
The Prague-based hotel chain is renowned for its exceptional focus on health and wellness, setting it apart from other chains in the industry. It proudly holds the position of Europe's leading spa operator, offering a comprehensive range of health services that cater to the diverse needs of its customers. These services include specialized medical treatments, diagnostic procedures, holistic healing programs, and various other wellness offerings such as spas, massages, mindfulness activities, and beauty services.
The chain's strategic selection of properties predominantly spans across Eastern European countries that have gained global recognition as premier wellness destinations. These countries include the Czech Republic, Hungary, Romania, and Slovakia. In addition to its presence in Eastern Europe, the chain has also expanded its reach with a number of properties in the United Kingdom.
By joining forces with Affilired, Ensana Hotels aims to enhance its affiliate marketing strategy, expand its reach, and amplify its brand presence.
Launching of the campaign on Impact platform
Impact, renowned for its advanced technology, data-driven insights, and user-friendly interface, provides the perfect foundation for Affilired and Ensana Hotels to collaborate seamlessly. Affiliates can now leverage this powerful platform to promote Ensana's exceptional wellness offerings to their audiences and earn lucrative commissions. With its comprehensive suite of tools and resources, the Impact platform empowers affiliates to maximize their earning potential while driving targeted traffic and conversions for Ensana Hotels.
Join the campaign today
The Affilired and Ensana Hotels partnership offers affiliates the opportunity to tap into the rapidly growing wellness tourism market.
As people become more conscious of their well-being, the demand for high-quality wellness experiences and retreats has soared. Ensana Hotels, with its exceptional portfolio of spas and resorts, caters to this demand, providing affiliates with a sought-after brand to promote and capitalize on the growing interest in wellness tourism.
As an affiliate marketer, make sure to explore this exciting partnership and join the the program on the Impact platform today!
 Stay tuned for more updates and news as Affilired continues including new and interesting travel programs in their partner networks.