Last minute bookings: is it possible to break this trend?
How to beat this trend with Affilired.
The 2022 Summer season is coming to an end and if anything has stood out during these months it has been the increase in last minute bookings. There have been many factors that have caused this upward trend, which has been a problem for any company dependent on tourism, especially for hotel chains: airline strikes, fear of the possible escalation of the war in Ukraine or COVID peaks in certain countries.
However, Affilired has identified that the adoption of strategies such as Affiliate Marketing can boost the generation of Advance Bookings, although this trend can only be applied within the sample of national and international campaigns that we manage.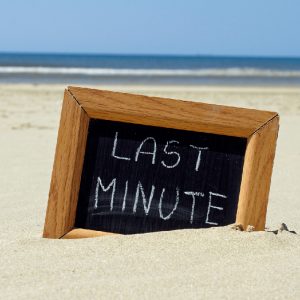 The challenges of last minute bookings
The growing trend to reduce hotel bookings to less than 8 days causes many problems for companies in the tourism sector, where arrival forecasting is essential for good planning. What are the implications of this high number of last minute bookings for hotel chains?
Uncertainty: the arrival of guests at a hotel involves many departments that must adjust their planning, supply and staffing according to the hotel's availability ratios.
Profitability: the pricing policy is constantly changing, with effects on the profitability of the rates designed at the beginning of the season.
Strategy: customer loyalty is lost in the search for the best last-minute offer.
So, is it possible to fight this trend?
Although it is difficult to change user behaviour, one of the great opportunities for hotel chains is to leverage their last-minute offers. To do this, hotel chains and other companies in the travel industry can take advantage of the benefits of implementing affiliate marketing strategies.
Affiliate marketing offers large-scale promotion of services and products in exchange for a commission on sales. It is a simple business model where affiliates give high visibility to brands and actively promote any offer the advertiser wishes to promote.
Affilired specialises in offering this type of solution for the tourism sector, carrying out all the advertising investment in the different channels and charging only a small commission to advertisers for each validated booking.
The active promotion of early bird offers is key to combating the trend of last minute bookings that has hit hotel chains so hard this season. Planning these campaigns correctly is key and taking advantage of events such as Black Friday to drive early bookings can make all the difference.
Over the last few months we have been analysing the bookings generated on our platform, specifically those generated directly through the affiliate marketing campaigns we manage for national and international hotel chains.
We wanted to compare the data from the glorious August 2019, when we did not yet know that we were in what we now know as "pre-pandemic" versus the two subsequent years.
According to the data provided by Affilired's platform, sales with check-outs of less than 8 days have decreased globally, the only exception being America, a continent where Affilired has been adding new clients recently.
In summary, although the overall trend for 2022 is still marked by an increase in last minute bookings globally, this data shows a trend towards a reduction in last minute bookings for those hotel chains that have launched affiliate campaigns with Affilired, where the promotion of pre-sales is one of our flagship campaigns.
If you are interested in finding out more about our affiliate marketing campaigns, please do not hesitate to contact us and we will explain how we can help your company.