A Guide for Publishers: how to monetize your blog with Affilired
You want to start promoting the travel programs managed by Affilired but, perhaps you are not really quite sure where to start?
Well, don't worry! We've come up with a handy guide which takes you through 3 simple steps, showing you where to start and what you should keep in mind before you start monetising your website with us.
The importance of your target:
The first thing to remember is, your blog or website needs to have a travel theme because at Affilired you will not find any program that is not related to the travel sector. We manage programs from hotel chains to airlines, ferries, car rentals, adventures and experiences.
To help make your campaign a success, it is essential that the product that you wish to promote suits your niche within the market. Although this might seem obvious, by maintaining consistency between your content and the promotions will help to attract your users and also promote trust, so they feel comfortable with what is on promotion and are, therefore, more likely to choose it.
Which products to promote:
In our publisher's section, you'll find all our current active programs. There are over 200 to choose from, we recommend you take your time, read all the features and advantages of each program thoroughly before deciding which program suits your requirements as well as those of your users.
If you know, for example, that 70% of your audience are families, then a good option would be to make a ranking of those programs whose activities and/or services are specifically targeted at this audience, this way you can analyse which of them will work best for you. Once you have made your selection of programs you might be interested in promoting, you can also check other factors such as the commission you will earn, potential markets or the average basket.
It just might be that you are interested in a wider target audience, if that's the case don't just choose one or two, promote them all!
The more campaigns, the greater the monetization will be.
Promotion tools:
Promotion tools offered by the program are also an important factor. Maybe you prefer the basic ones such as banners and offer feeds or maybe, you would prefer to work exclusively with discount codes? In each of Affilired's program's profiles, you will find all the promotion tools offered by each program campaign as well as the terms and conditions. However, don't forget if there is something missing you can always contact the Account Manager!
Choose the affiliate network:
Once you've decided which program or programs you are interested in, based upon the possible revenue you can make, check out the networks on which they are active.
*This information can be found at the end of the program's profile.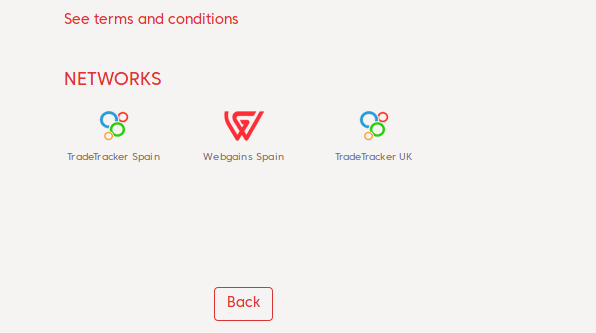 If you are not registered as a publisher with a particular network, just click on the network's logo you wish to join, and you will be redirected to the registration page. Once done, the network will give you all the guidelines needed to start with the promotion.
And finally, how and when to collect?
The first thing you should know is at Affilired we use CPA "Cost Per Acquisition", which means that once a sale is made and validated, you will receive the commission specified in your chosen program.
The collection will take place through the network promoting the program/s. Here at Affilired we manage all the programs and centralize the billing on these platforms so that everything is easier for both our advertisers and for you.
Let's look at an example: if you decide to promote the Garden Hotels program, for each sale, once the user has checked out and the advertiser has verified the sale, you will receive an 8% commission of the total sale amount. Each network has its own rules, but on average it takes 30 to 45 days from the date of validation for your commission to be paid.
Our commitment to you is that you always receive your commissions on time.
We hope that this simple guide has helped to resolve your doubts about promoting using our programs. However, if you still have questions, then please get in touch with our Account Managers Department via the form on our website. who will be more than happy to assist you.
Start monetizing your website with Affilired!